Biography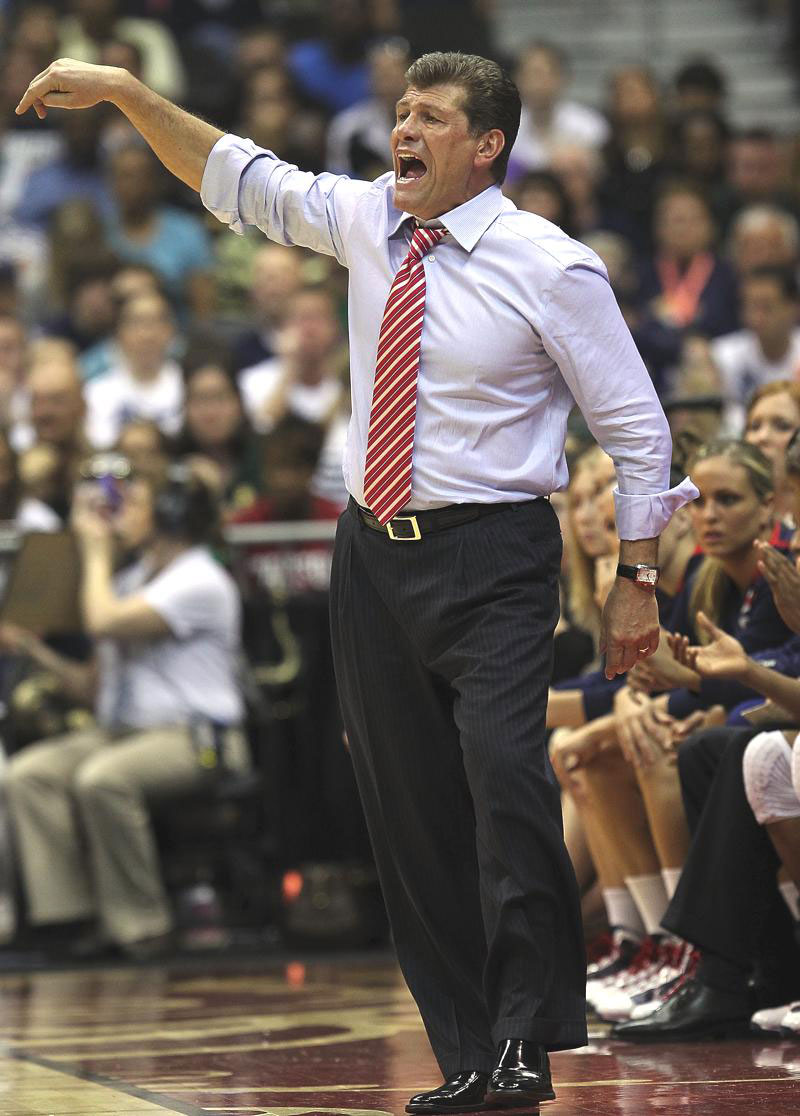 He's the guy everyone loves … that is, until he gives it to you straight, and then you hate him for it. But underneath the anger you know what he's saying is true.
Candid, honest, blunt—they certainly describe Auriemma, but they're just labels. Auriemma transcends all of that—he's at the helm of the vanguard that continues to transform women's basketball.
Actually, "women's basketball" is a term that has never sat well with Auriemma. After all, he doesn't coach women. He coaches basketball players.
The City That Shaped Him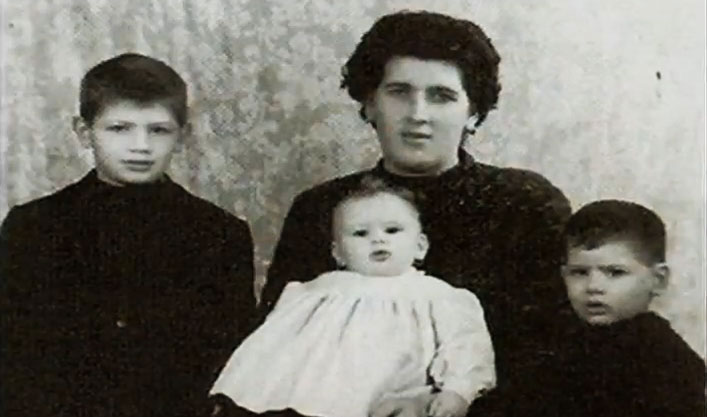 Montella is a small, hardworking town located in the province of Avellino in the Campania region of Italy. It has endured for centuries thanks to its inexorable spirit, toughness and resilience—qualities also embodied by Luigi [Geno] Auriemma, who was born there on March 23, 1954.
Growing up in Montella with parents Donato and Marsiella and siblings Ferruccio and Anna wasn't paradise in the traditional sense—running water, heat and electricity were considered luxuries, and the family had no phone, car or television. What they did have, and what has continued to be the foundation of his life and career, was love, honor and loyalty.
From birth, Auriemma was a natural leader; striving for excellence was firmly ingrained in his being. In fact, when his family immigrated to the United States in 1961, it wasn't uncommon for 7-year-old Auriemma to help his parents make their mortgage payments or interact with lawyers.
Back in Italy, his first sports love was soccer. But lacking a soccer team to play on when the family settled in Norristown, Penn., he made the switch to America's favorite pastime: baseball. He lived for it—the competition, the camaraderie, the team atmosphere.
Basketball Takes Hold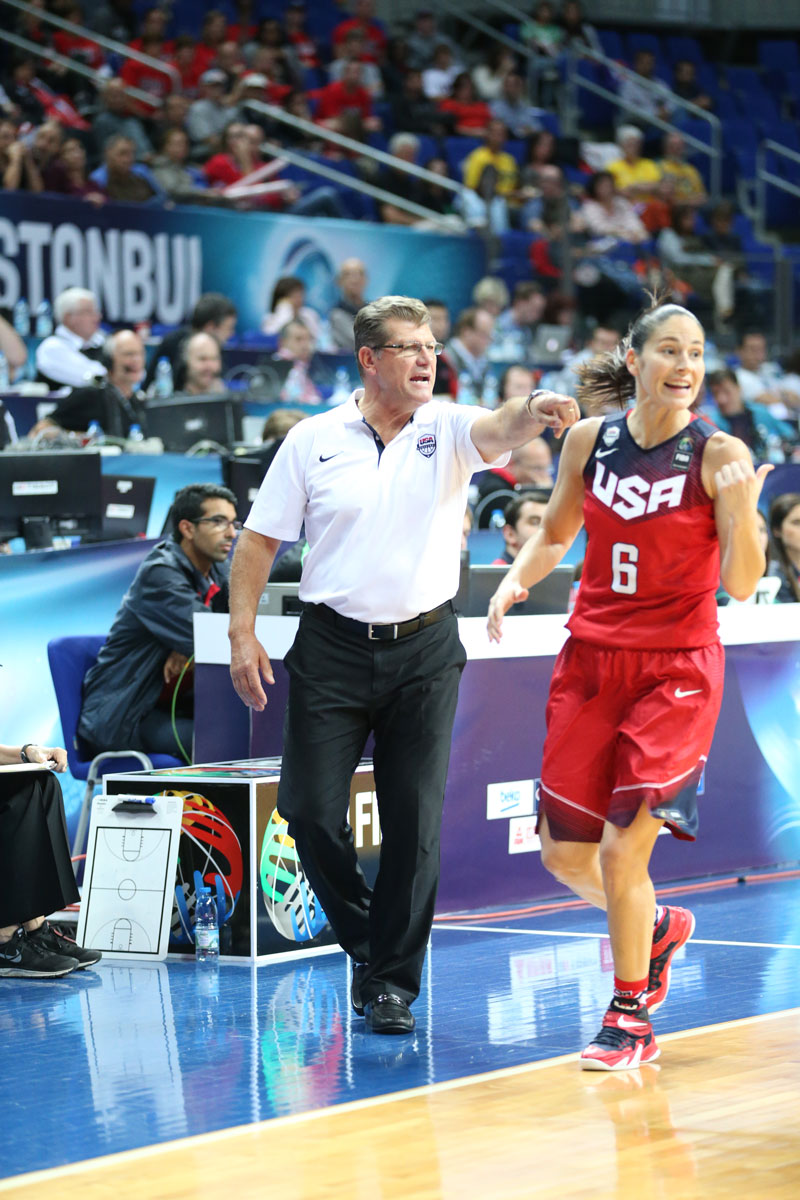 He played baseball through his senior year at Bishop Kenrick High School, but during his sophomore year basketball planted its seed. Auriemma played for coach Buddy Gardler on the varsity basketball team. One of the most significant influences in his life, it was Gardler who first inspired Auriemma to become a coach, and Gardler whom Geno modeled his coaching style after—old school, tough and gritty. The rules were clear, and you were expected to follow them. Playing for Gardler was easy—you just had to do everything he told you. That same spirit manifested in Geno Auriemma.
After graduating high school in 1972, Auriemma attended Montgomery County Junior College. It was December of that year when Auriemma met the most significant person in his life—his wife, Kathy, whom he considers his most valued and trusted source of guidance and loyalty. He later transferred to West Chester State University, where his coaching career began. For two years, Auriemma attended classes at West Chester and drove an hour to and from Bishop McDevitt High School to fulfill his coaching duties with the women's team. To make ends meet, he would become a renaissance man of sorts, helping build houses, bartending and working at a local grocery store.
In 1977, Geno would become an assistant coach at St. Joseph's University before returning to his high school of Bishop Kenrick to be an assistant with the boys' basketball team. As his coaching career bloomed, Geno made another big life move. He and Kathy married in 1978—broke but madly in love.
At Bishop Kenrick, he coached until 1981 when he earned his bachelor's degree in political science from West Chester State University and accepted an assistant coaching job with the University of Virginia, a position that put him in charge of recruiting. By his third season he had recruited six high school All-Americans, and during the 1984-1985 season the team posted an impressive 24-8 record, won the Atlantic Coast Conference title, ranked No. 10 in the nation and earned a berth to the NCAA tournament. The program, and Auriemma's reputation for excellence, were on the rise.
That year, Auriemma made a decision that would forever alter the landscape of women's basketball.
Geno Comes to UConn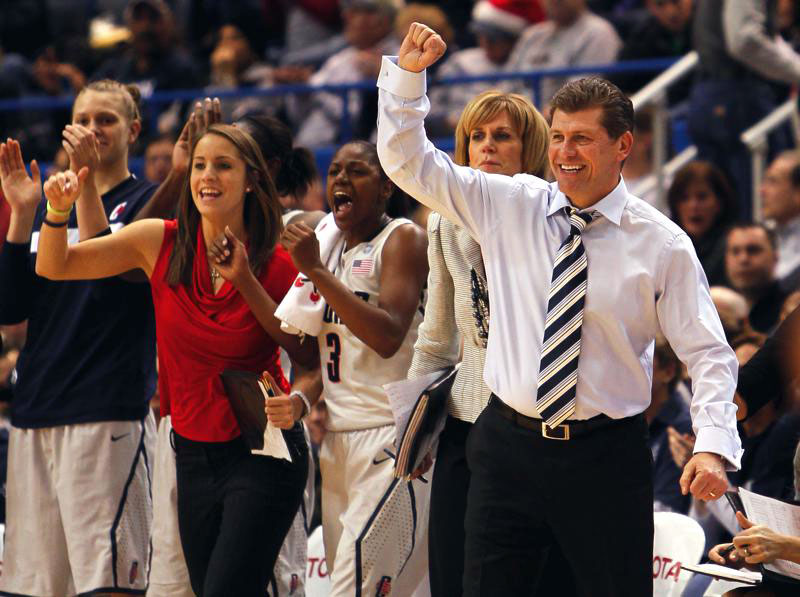 When a job opened up at the University of Connecticut, Auriemma didn't jump immediately. He enjoyed his position as a Cavalier. He and Kathy had made a home in Virginia with their first child, Jenna, and were expecting a second daughter, Alysa, but his desire to lead a team had begun to bubble to the surface.
After he traveled to meet with John Toner and Pat Meiser about the UConn position, he experienced a sudden sense of clarity and purpose. He felt a clear sense of belonging and opportunity, which made the decision to leave Virginia and accept the UConn job an easy one.
So seamless, in fact, that Auriemma accepted the position without ever having seen UConn's facilities. He admits experiencing some apprehension about that, but he cared more about the "who" than the "what"—a philosophy Auriemma began to solidify from the moment he stepped foot on the UConn campus.
That didn't mean things would be easy—quite the contrary. Later on, Auriemma discovered that the team had no locker rooms, and that the ceilings in the practice facility leaked so badly that rain made practice impossible. In typical Auriemma fashion, he didn't let any of these things become an excuse or take away from the leadership he always instilled in his teams.
An Incomparable Legacy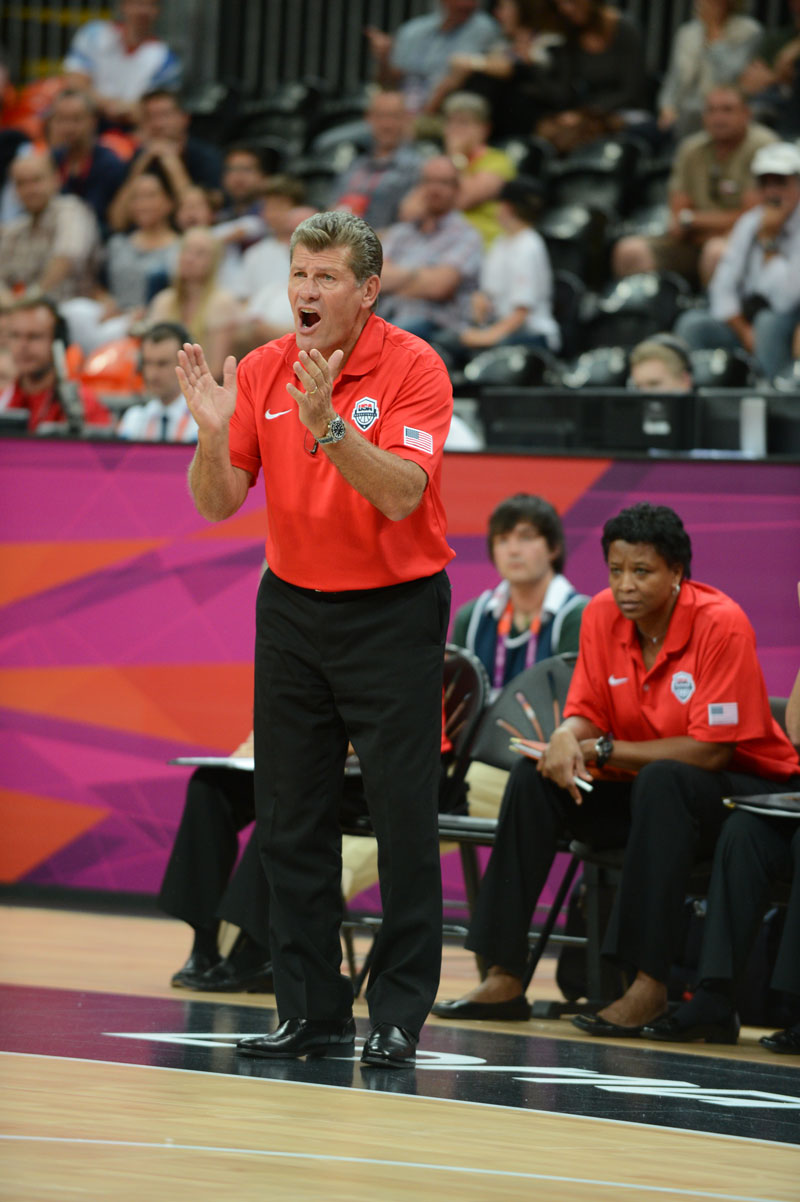 Before Auriemma arrived at UConn, the women's basketball program had only one winning season in its history. Amazingly, since his arrival in 1985, the Huskies have had only one losing season—his first year with the team. Fittingly, their first NCAA Tournament appearance in 1989 coincided with the birth of his first son, Michael, at the beginning of the season in 1988.
Since his arrival in 1985, the UConn women's basketball team has won 55 regular season and tournament titles, advanced to 22 Final Fours, posted six perfect seasons and won 11 national championships. Auriemma has been inducted into the Naismith Memorial Basketball Hall of Fame, the Women's Basketball Hall of Fame and the National Italian American Sports Hall of Fame.
He is an nine-time AP College Basketball Coach of the Year, eight-time Naismith Coach of the Year, seven-time WBCA National Coach of the Year, 11-time Big East Coach of the Year, and four-time American Athletic Conference Coach of the Year. Auriemma's cumulative record at UConn is 1149-150—the best winning percentage in the history of the sport.
In addition to his time at UConn, Geno has served as assistant coach and head coach of the USA Women's Basketball Team. With Geno on the sidelines, the USA Women's Basketball Team is 50-1 in official FIBA and FIBA Americas competitions. He brought home a gold as assistant coach in the 2000 Olympics in Sydney, and two more as head coach at the 2012 London Olympics and the 2016 Olympics in Rio de Janeiro.
Focused on Family, On and Off the Court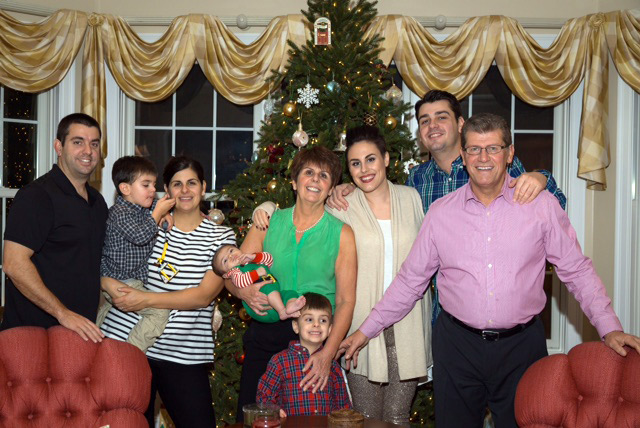 There's no mystery to why Geno Auriemma is a successful coach. Generally speaking, guys who project intelligence, humor, have an insatiable thirst to win and maintain a relentless pursuit of perfection have done pretty nicely for themselves in the sporting world.
Auriemma is a throwback to the coaches of yore. He's the kind of guy who could coast along forever on his magnetic presence alone. But he doesn't. He's a nostalgic man, but his nostalgia seems fed as much by his love for his family and players as his own desire for respect—something he, like all great coaches, has earned without overriding narcissism.
Coaching, like fatherhood is terrifying. But Auriemma has blended the two into a unique cocktail of success. Sure, he constantly worries and gets little sleep, but being a coach, like a father, has given him incomparable life affirmation. To say that Auriemma has been a father figure to his players would be a massive understatement. Does he get animated at times? Sure. But that's who he is.
To get irritated at something means it matters to you. He genuinely cares about his players. That's why every single player who has fulfilled all four years of eligibility has graduated with a degree. With Auriemma the link, the UConn women may be the tightest family in all of basketball.
It sounds tired, but for Auriemma, coaching is about more than basketball. It's about relationships, and those relationships should last a lifetime. Call him coach, call him father—he's the guy you proudly introduce to your friends because he's the coolest guy in the room. His involvement with dozens of charitable efforts such as the UConn Sandy Hook Scholarship Fund, Geno's Cancer Team/the V Foundation and the Geno Auriemma Leadership Conference only adds to his winning aura.
In life, on and off the hardwood, Auriemma is constantly winning but not confessional. The basketball world gets its bits and pieces of the man, and Auriemma—without shying away from any confrontation or challenge—holds true to his soul.
If a man does not keep pace with his companions, perhaps it is because he hears a different drummer. Let him step to the music he hears, however measured or far away.

—Henry David Thoreau